Smiles for Sibs - 8 to 13 years
Wokingham: Woodley Airfield Community Centre, Hurricane Way, Woodley RG5 4UX – Monday 4.15pm to 6pm (term time)
Bracknell: Braybrook Community Hall, Makepiece Road, Priestwood, Bracknell RG42 2HF – Thursday 4.30pm to 6.15pm (term time)
Our aims
We run two groups for siblings of children with a learning disability/ASC. Both groups are called 'Smiles for Sibs' because that's what the aim of the groups is: to give siblings some 'me time', let off steam and have fun with a variety of different activities. The Siblings are keeping a photographic record of their activities as part of a project and both groups enjoy occasional shared outings with each other.
Recent activities have included:
Fitness training and Sports
Nature Trail
Design a T-Shirt
Paint your T-Shirt
Games
Treasure Hunt
Ball Games in the Park
Picnic
Party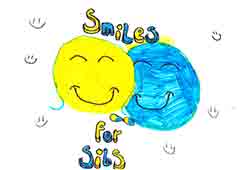 "I enjoyed it sooooo much, can we go again?"
a participant
Sibs Trips
Over the years the children have the opportunity to participate in a variety of trips. In 2013 they went to Laser Quest and had a trip to St Fagans in Pembrokeshire where they met another Sibling group and shared some experiences and concerns, and explored the Welsh National History Museum. A distance to travel perhaps, but this was the first trip over the border for some and a great outdoor experience for all. In 2014 we had a trip to see Panto on Ice.
The summer trips in 2013, 2014, 2015 and 2016 were visits to Boscombe Beach which is always a very popular choice.
Smiles for Sibs in Bracknell is funded by a donation from Bracknell Forest Council, The True Colours Trust and Children In Need. Smiles for Sibs in Wokingham is funded by donations, The True Colours Trust and Children In Need. The clubs are open to children in Bracknell and Wokingham. If you would like further details about either of the groups please contact our Wokingham office on 0300 777 8539.