Youth Club @ Addington – Year 9 upwards
"It's better than Air Cadets!"
a participant
Venue: Addington School, Woodlands Ave, Woodley RG5 3EU
Time: 7 – 9pm Wednesday evenings during term time
This social group is for young people of Year 9 and upwards with a learning disability/ASC and gives them a chance to socialise and have some fun.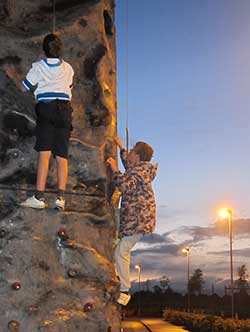 The youth club is run by experienced staff and volunteers and the young people enjoy a variety of activities which regularly include arts and crafts, games, computers, Wii and cooking plus occasional cinema trips and outdoor activities.
Recent sessions have included:
Trampolining
Climbing Wall
Decorating biscuits
Making jigsaws
Smoothie making
Police dogs visiting
Kamikaze rounders
Picnic in the Park
Ashleigh's Fancy Dress Party!
Youth Club @ Addington is funded by Wokingham Borough Council and is therefore open to Wokingham members only.