Campaigns
Changing Places toilet campaign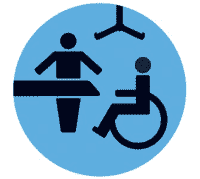 We are supporting the Royal Mencap Society 'Changing Places toilet' campaign. Standard disabled toilets do not meet the needs of thousands of people, including 40,000 people with profound and multiple learning disabilities (PMLD). Without adequate facilities, families have to change the person they care for on a cramped and dirty toilet floor. The alternative is to limit outings to a few short hours, or not go out at all. Changing Places toilets have a height-adjustable changing bench, a hoist and plenty of space - and can make all the difference to someone with PMLD.
Royal Mencap Society is part of the Changing Places consortium and believe that:
Changing Places toilets should be installed in all big public places, including shopping centres, arts venues, stations and airports, in addition to standard disabled toilets
Planning guidance and regulations should be updated to ensure all new buildings have to include a Changing Places toilet.
Wokingham, Bracknell & Districts Mencap are campaigning locally to have at least one Changing Places toilet installed in each local Borough.
We have successfully campaigned to have one installed in Wokingham town centre and are now campaigning to have one installed in Bracknell town centre as part of the Regeneration. Changing Places toilets have also been installed at The Lookout in Bracknell and Dinton Pastures in Winnersh.